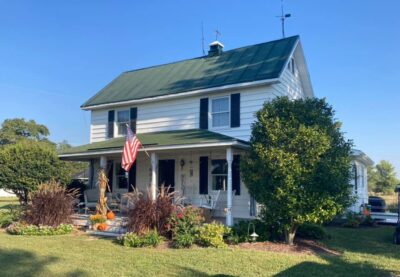 We are Kevin and Melissa Hazelgrove and we live in Mechanicsville, Virginia. We have a blended family of five boys and have come to the Rappahannock River with our kids for almost 20 years. In the spring of 2019, our youngest was getting ready to graduate high school. The kids were starting their new lives and new families, so we felt like it was the right time to start looking for a little home on the Rappahannock River that would eventually become our permanent place of retirement. We would casually check out For Sale homes by car or boat, and many times we'd cruise by the shores of the town of Morattico and admire the beautiful homes. We visited the museum there a few times and really fell in love with this tiny town and all of its charm. I started an online search and we would visit a lot of houses on our own or with various realtors, but nothing fit. The cost was too high, the house was too small, or the neighborhood didn't appeal to us.
One day a home popped up on my search…it was in Morattico! I literally screamed! It was a little higher than our price range but we just had to take a look. I called the realtor, the amazing Deborah Edgar, and she met us there on a beautiful Saturday morning. We loved the house and really tried to make it work, but for different reasons, it just wasn't meant to be. Another home immediately became available in Morattico, but it was a foreclosure and that wasn't working out either. At this point this process had taken up our whole summer and after being disappointed twice we were done and took a break from looking. We loved this town and were hoping to make these homes work but became discouraged when they didn't. Plain and simple, it had to be Morattico. Since nothing else was available, we thanked Deborah for all of her time and patience and we stopped looking. I figured if we were meant to have a house there it would happen and I just had to let it go.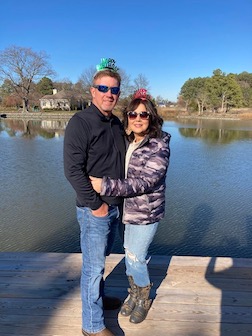 A couple of months later I got an email from Deborah….her very dear friend was selling his house in Morattico. She remembered us and our dream, and contacted me first! It wasn't listed yet but if we wanted to look at it, she could get us in. She attached a few photos and I couldn't believe it…it was the CUTEST house I'd ever seen, on the water, in our price range, IN THE TOWN THAT WE LOVED. I had to close my office door just to have a good cry because I knew the emotional roller coast was starting again – it was too good to be true. We went to look at it in early December, and instantly fell in love with everything about it. Charming is an understatement. Was it a little bit of a fixer upper? Absolutely. The seller had taken great care of it while in use but he hadn't been down there in a few years. But we saw past the overgrown landscaping and parts that needed a little TLC (the bathroom was scary!), and just took in the beauty of the water, the wildlife, and imagined all of the wonderful potential. We closed on the house in January 2020. Literally signed the papers at the title company and drove down there that afternoon. We immediately got to work unpacking, cleaning and fixing things. The bathroom was updated that weekend!
This home is now our weekend getaway, our staycation, our holiday place, and friends and family use it any time because the home and creek/river views just have to be seen and experienced. We are on Ivy Creek, which opens up into Lancaster Creek, which opens up to the Rappahannock. We added a dock and love to sit and watch the herons, eagles and osprey fly around the water. We have even seen stingrays and otters in the creek! The small town has its own post office, and the museum hosts fun crab feasts and oyster roasts. The neighbors are wonderful and the views and sunsets are out of this world. Deborah heard our dream, patiently worked with us until the right house came along, and then made it the most enjoyable and seamless home-buying experience. We still pinch ourselves every time we turn the last corner and see our sweet little house waiting for us.
Kevin & Melissa Hazelgrove
April 2022