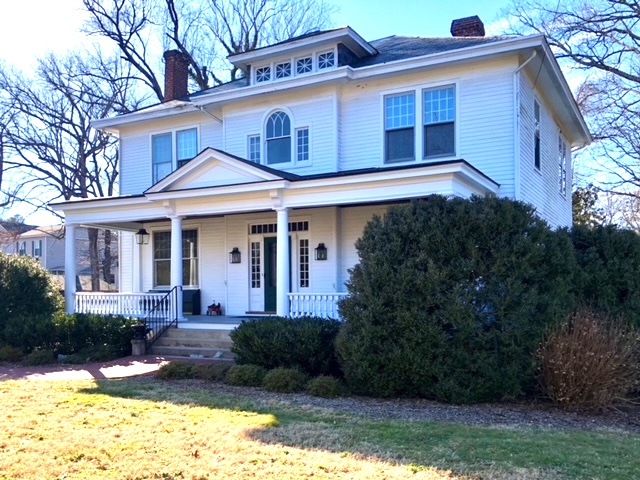 For 16 years we lived in the Museum District, where we'd restored our Grace Street home from a dilapidated rooming house (purchased with crime scene tape in the backyard from a recent homicide) to a fully restored gem. We had an English basement apartment providing us with substantial rental income. It was just right for two of us. When our son Fletcher arrived, we knew we would outgrow our rowhouse in the coming years. On weekends we'd venture out to the 'burbs, but we never found 'the' house or neighborhood. We always returned to Grace Street thinking we'd end up settling on our next home. It'd be ok, but not what we loved. Seeking character and community, we frequented Bon Air, the only older area of Chesterfield we were aware of. We sought a Pearl's cupcake, not a Ukrop's sheet cake. But there was no rush, and life went on.
We'd casually put the word out to Deborah, a long-time friend who knew our love of old homes. One day she sent us a listing, with a message to the effect of: you must see this house. We looked at the listing and nearly fell out of our chairs. Deborah did it… there it was… a 1913 Georgian Revival with a rich history, a name…. The Morrissette House. In Midlothian? Wait. What. Midlothian has old homes? Who knew? We hopped in the car, our Southside Passports in hand. As we entered the Midlothian Village area, we turned onto Salisbury Drive, a small nondescript road we'd apparently passed a gazillion times. That day we discovered the real Midlothian, a quaint neighborhood of old homes, nestled along train tracks in the original village. There was 'the' house. Holy cow (I don't think we said cow). That's a big ole house. Look at that yard. Living in less than 1500 square feet with nary a blade of grass in our courtyard, we were looking at a 3600+ square foot home on a grassy hill of 3+ acres. So many thoughts … How did we not know this area existed? How is this house still for sale? Do we really want a home and yard this big? Can we maintain it? Do we want to live this far from the City? Excitement! Uncertainty! We repeatedly called Deborah, leaving frantic messages, imagining another family scooping up the home before we could even see it! Giving grace to our persistent calls, Deborah arranged a showing the next day. I never thought I could love a home more than our Grace Street home, where I'd lived longer than anywhere else. A home that'd taught me so much, had revealed my love of all things old. It took a little while, but now nine years later, we love this home more than ever. Our forever home, in our forever community. A home in which we hope Fletcher will raise his family.
'Our' Midlothian isn't a traditional suburban neighborhood, but it is a community. We don't have sidewalks, but we have a long dirt road, with miles of gravel paths to explore. We have 'the' neighborhood sledding hill (the house came with sleds!), and a fresh-water spring feeding a creek that's never run dry. We can see the stars yet can be at our choice of grocery stores in moments. We even have a new brewery in walking distance! Our neighbors are diverse in backgrounds, viewpoints, and age ranges, with special homes. We wouldn't have it any other way.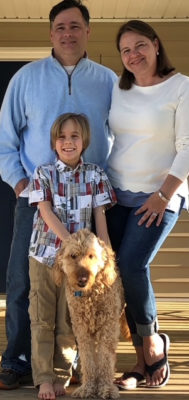 Beyond the Morrissette family, we're the third family to live in the home. Unlike our Grace Street home, the Morrissette House had been cared for. But these old places take a lot of work! And time. And money. This last year we completed a 3+ year front porch restoration, completely stripping, repairing, and repainting the front porch…72 intricate balustrades, 6 large columns, and 400 square feet of chestnut floors. The original porch ceiling couldn't be salvaged, so we replaced it with historically accurate stained tongue and groove. Exterior lighting was replaced with period appropriate burnished copper reproductions. We completed major repairs to the slate roof, replaced the rotten built-in gutters with copper gutters and had all exterior soffits and dormers painted. Inside, we've stripped and restored most of the painted interior doors and have replaced most of the non-original lighting. Unfortunately, the original light fixtures were removed before our time. Having discovered rot and structural faults in our laundry room, we've almost completed a full gut and conversion to a dual laundry room/butler's pantry, utilizing mostly salvaged period-appropriate materials. We discovered original wood floors under layers of ceramic and vinyl, now uncovered glorious. Down the road, we'll remove built-in bookcases we believe hide original built-in pocket doors… fingers crossed! The list goes on and on.
Looking back, we didn't get the Ukrop's sheet cake, nor the Pearl's cupcake.
We ended up with the grand ole wedding cake.
Lewis, Lindsay, Fletcher and Harper-Doodle Cassada
2/3/2022