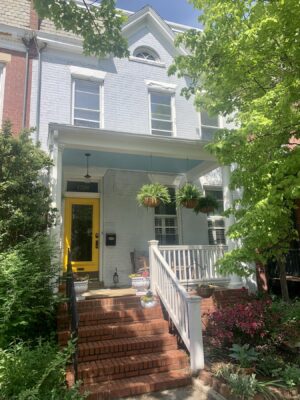 When I moved to Richmond in August of 2020 for a position at Virginia Commonwealth University, the pandemic had made it abundantly clear that this transition would not be easy. The housing market was already destabilizing. Rates were low, buyers were anxious, and sellers were hesitant. Even securing my first apartment in the Museum District was a feat of imagination, possibly involving an early-morning stakeout in order to deposit a security deposit before my competitors. When it came time to start looking to buy six months later I knew it wouldn't be easy. My desires were specific and my means weren't in line with the realities of the market. And yet, week after week, sometimes two or three times a week, I'd meet my wonderful agent Courtney Kimball at yet another property, sometimes with my partner David in tow, and she'd gamely walk us through—oohing and ahhing when it was a good one, and gamely brainstorming with me about remodeling and design ideas. I learned that Courtney has a background in interior design. We also share a love for old homes. Combined with her indefatigable patience, she was the perfect guide, someone I looked forward to seeing, a friend and stalwart captain through the murky waters of a tempestuous market.
It was tough going. We were outbid a few times. I was possibly too ambitious. But Courtney never gave up and never made us feel like we were being foolish. One day, when I was apologizing for dragging her through yet another house I likely couldn't afford, she said, "You know, I love this work so much, I'd do it even it wasn't my career." And I knew she was being earnest. Like me, she truly loved homes, the architecture and details, imagining all the lives lived therein, the possibilities to come. I was so grateful.
And then one day, a little house in the Fan popped up, listed right at my max price point, and while it needed work, the location was perfect, and the bones looked strong. "Is it even worth looking?" I asked Courtney. I didn't want to ask her to go on a fool's errand with me. A couple hours later, we were there, ogling over moldings and floors, dreaming up possibilities. Ever patient, Courtney spent nearly an hour with me in the kitchen alone, imagining layouts and cabinetry, colors and hardware.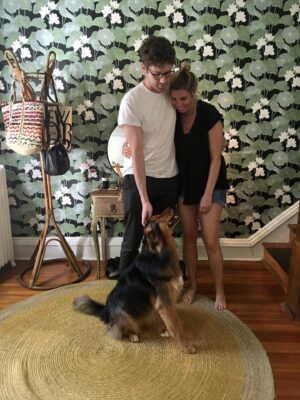 A year and a miracle later, we couldn't be happier in our home. I walk to my job at VCU only four blocks away, the gym, restaurants, and markets. We rock on the front porch and watch the world pass by. We take long walks through the neighborhood and admire the architecture and trees. All the fantasies of city living I had imagined upon first moving to Richmond but was afraid would never materialize. David and I tackle renovation projects one at a time and its rewarding, challenging, and creative work. Last week we built and planted a raised garden bed, and this week painted the front door and porch ceiling the perfect faint blue. The kitchen is next, and I have all of Courtney's ideas, notes, and vision to guide me. I can't wait to show her the finished product!
Jessica Nelson, David & Jasper
May 6, 2022